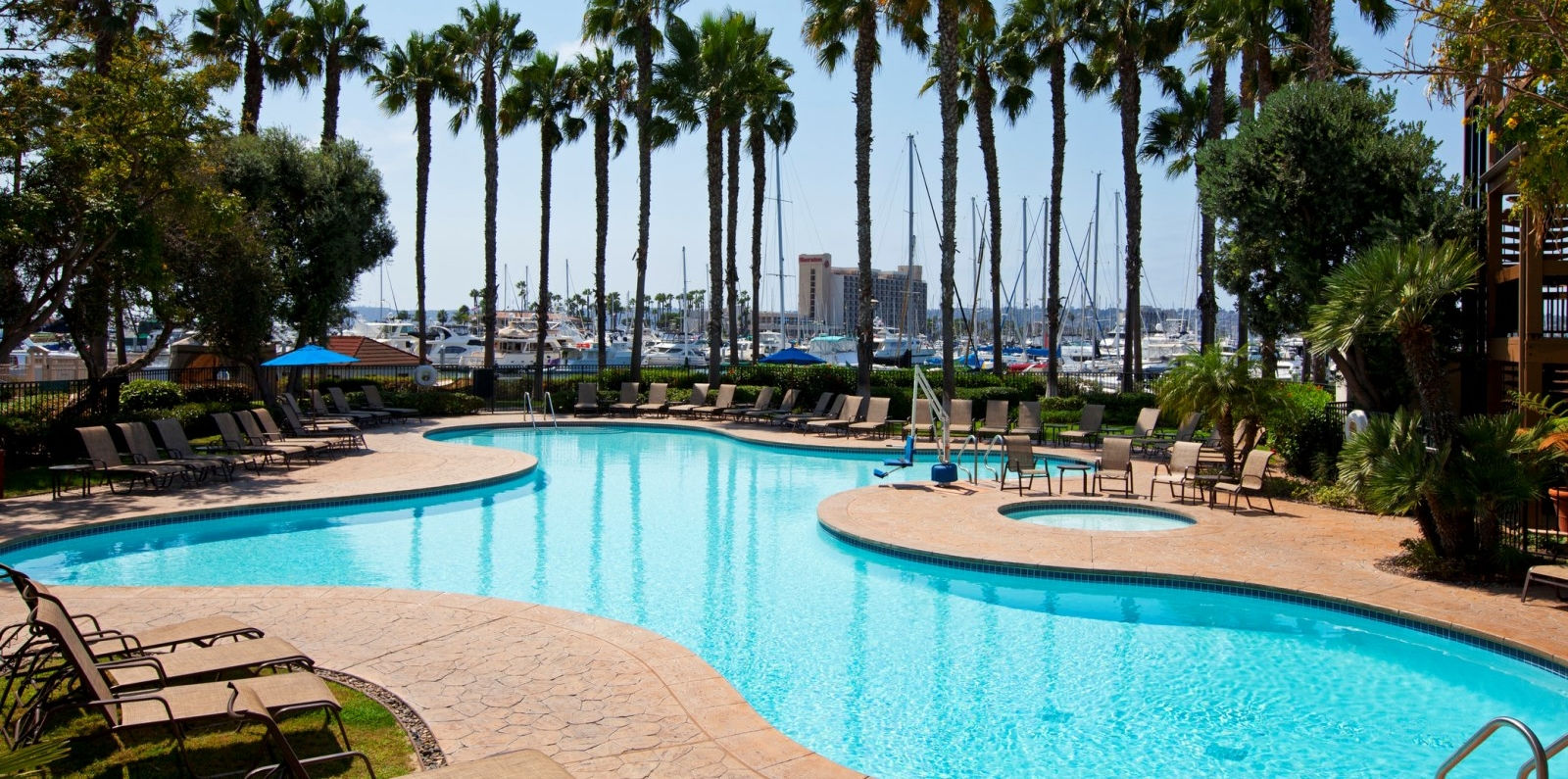 Experience San Diego's year round sunshine and cool down in any of our three outdoor heated pools located just feet from the Marina. After a day of exploring the destination, wind down and relax in one of our family size hot tubs. Whether you're lounging in the sun or looking for glory with poolside table tennis, experience Southern California at its finest.
Marina Tower Pools:
Located outside the lobby of the Marina Tower and next to the Bay, the Lagoon Pool offers activities from year round table tennis to summer leisure programming. It's where families connect and share special moments with seasonal pool side games & activities, and summertime "Dive In Movies" during the evening. Wrap up your workout with a rejuvenating soak in the hot tub or enjoy a poolside beverage.
Open daily 7:00am to 10:00pm
Adjacent to the Lanai Building, the Lanai Pool offers a tropical setting where experiences and memories are made. The hot tub is always at an ideal temperature. The Lanai Pool, also known as "The Cool Pool" during the off season, is brought down to a cooler 60 degrees between late Fall through Spring to support our sustainability initiatives and reduce our carbon footprint. It is the perfect place to wind down from an activity packed day while leaving you with the satisfaction of protecting our environment. We invite you to dive in and help reduce the emission of carbon dioxide by 58 metric tons per year.
Open daily 7:00am to 10:00pm
Bay Tower Pool:
Affording spectacular views of the Marina, the Bay Tower Pool is the perfect get away after a long day of exploring. Lounge and recharge beside the heated pool or sink into the dreamy hot tub to plan tomorrow's adventure.
Open daily 7:00am to 10:00pm